Open Kitchens.  While for some, upper cabinets are vital. But the current trend is to get rid of the upper cabinets, opting for either simple, visually lighter open shelving, or, in a few lucky cases, getting rid up the upper cabinets entirely. Such a bold move allows for a lighter feeling, spacious kitchen, and in many cases, the ability to connect the kitchen to other, more open areas like a living/family space.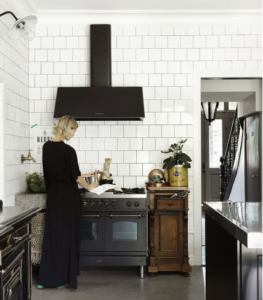 2.  Range Hoods. Any serious cook knows a hood is vital for catching all the smoke, bacon grease, etc floating from the deliciousness going on from the stove. The good news is that you can be quite creative with range hoods these days: finding all sorts of options to fit your space, style and yes, even budget.
3. Stainless Steel.  While we're at it, stainless steel isn't going anywhere either anytime soon. Yes, the stainless look has been around for a long time. But go beyond the standard stove/oven/fridge/microwave combo.  Think shelving and even cabinets to create a truly unique look.
4. Black Cabinets.  Ok, so stainless cabinets isn't your speed? Try black then. This rich look allows you to shift the visual focus to quite literally wherever you want. Maybe you have a stunning art piece above the breakfast nook? Or a grouping of copper-clad pots? Daring black cabinets could create just the backdrop you're looking for to set off your favorite things.
5. Pot Rails.  We've all experienced the frustration of trying to pull a pot or skillet out of a cabinet without entirely undoing the neatly stacked pile. That's why pot rails are a home cook's best friend. They keep everything right in easy-to-reach line of sight, and can be treated as yet another design element in the kitchen.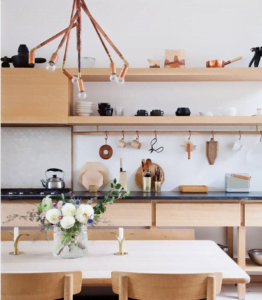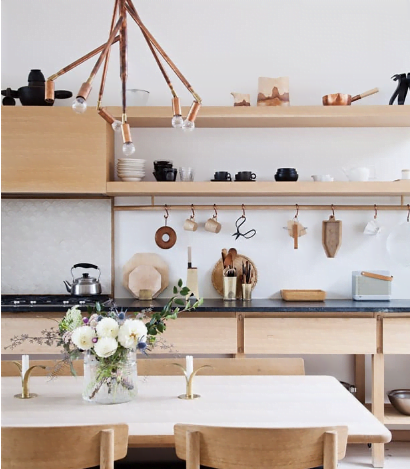 6. Mixed Materials. Create a unique, eclectic feel by combining, mix-and-matching the right combination of materials that reflect just your personality. While white subway tile might be great for the walls, maybe your style craves a touch of homeyness: so hardwood floors (or faux-wood-tile) might warm things up enough to call it home. An industrial touch? Ok, maybe stainless steel appliances are a little pricey. But a visit to a metal fabricator to create a wall treatment can give a half wall or kitchen island the industrial touch you want.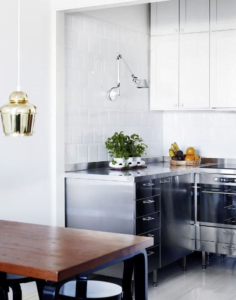 7. Color. Find the right way to bring color into your kitchen. Whether it's painted cabinets, colorful tiled backsplashes, or a brilliant piece of art, color is like a great accessory to the perfect outfit. Is color a risky proposition for you? Not sure what you like? or maybe you need to start small? Try painting the insides of your cabinets — or even wallpapering them (or, an easier option can be contact paper, which comes is a big variety of styles and colors these days).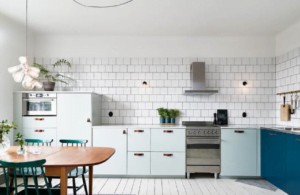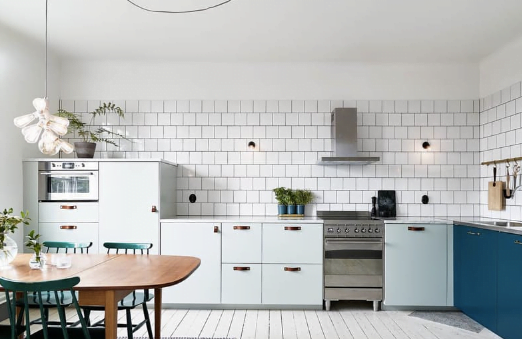 For the full story, read here.