Colorful bathroom tiles, particularly those inspired by the art deco period are coming back in a big way says Apartment Therapy's Nancy Mitchell.
We all know Art Deco. It's the iconic architectural and design style from the 1920s-30s that combined modern style with extraordinary craftsmanship and exquisite materials, ultimately symbolizing luxury, glamor, and all things socially and technologically progressive for the times.
Think of the Chrysler Building or Rockefeller Center in New York.  … Got the picture? That's quintessential Art Deco style.
Now imagine that amazing style… in the bathroom.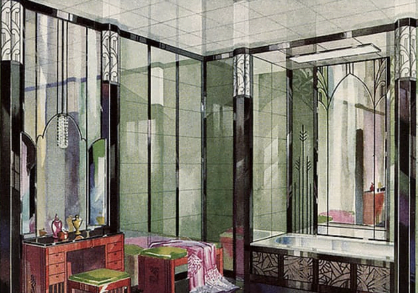 All the high drama, amazing detail and world-class craftsmanship in our favorite room in the house. What's not to love?  For more exquisite detail, read on.