Maybe your kitchen was the standard, baseline model for the homes in your development. Or maybe your kitchen in dire need of "fixing it up" … but you're a little short on time, energy or funds. Whatever the situation, Eleanor Busing has five easy ways to breathing new life into your old kitchen.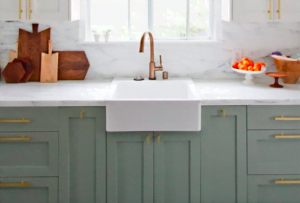 Swap out your kitchen hardware. Think of kitchen hardware as the mascara of makeup. It's such an easy thing to do and immediately lightens and brightens a space. Can you do without upgraded cabinet pulls? Sure. But when new towels aren't cutting it, and you can't afford new counters, this is a fast and easy way to breathe new life into an old space.  From Home Depot to Anthropologie and even Pottery Barn, you can find the right hardware to work for your space. And if you're not sure what to choose, take this quiz.)
Add a splash of color… secretly.  Particularly if you have an open layout in your home, you may be reticent to add big splashes of color in the kitchen.  That's ok… You can include a pop of color in subtle ways in the kitchen: think about wallpapering or simply painting the inside of a few of your cabinets.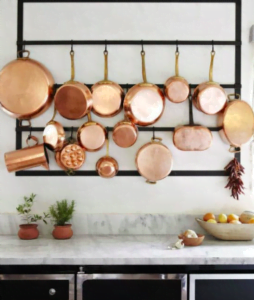 Display Your Style. Some people can pull off the open shelving look… for the rest of us…? Everyday life might get in the way of keeping those open shelves looking magazine-styled.
But that doesn't mean you can't still find a way to show off your style.  Think "collections."
Maybe you have a few of your grandmother's antique kitchen implements… Or a set of French Countryside serve ware from Mikasa? Or even a set of copper bottom pans like seen (left) in Grey's Anatomy star Ellen Pompeo's kitchen?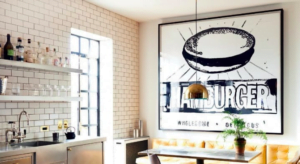 Customize the art and lighting.  Ok, maybe you can't do all that you want this year, doesn't mean you can't make some progress. Start by improving the lighting (which does wonders for setting mood) or adding your own personality with art.  (We're also crazy about the subway tile wall covering!)