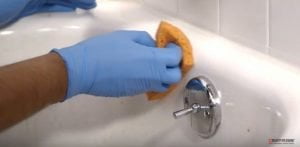 Make Your Bathroom Look Great Again… Yes! your bathroom was great when it was new; it has served you many, many years trouble-free, thousands of baths and showers with millions of gallons of water and soap, plus everything else that goes down the drain and chips, scratches, stains, etc. Come to think about it, your tub has seen it all! and still, it is there for you every morning.
Now it's time to realize and understand that it's not what your bathtub can do for you… It's what you can do for your bathtub!
Yes, it's time to give your bathtub the royal treatment, and by that, we mean to treat your tub to a professional refinishing experience.
That's what a Bathtub Doctor refinishing job is; it's the ultimate bathtub refinishing job, giving a new, deserved life to a loyal member of the household who has served for years with no complaints. A Bathtub Doctor refinishing job gives your bathtub and tiles a new high-gloss finish, which makes them easy to clean, a joy to use, and beautiful to look at. It will remove unsightly chips, scratches, stubborn stains, embedded soap scum, and ugly and messy caulking. No need to remind you of the ugly things you see on your tub every day; my job is to tell you how good your bathtub can be again. After thousands of bathtub and tile refinishing jobs over the last 37 years, I have seen it all—the good, the bad, and the ugly—so I'll keep that to myself.
Don't let another day go by ignoring one of your most intimate companions; after all, you meet every morning and cannot miss but look at each other every day and sometimes more often, so do the right thing for your bathtub, treat it nice, and it will continue to be there for many more years to come.
Click here to schedule your free consultation with a refinishing expert now.
Pick your date and time to talk about your bathroom issues at your convenience. No voice mail, no phone tag. Schedule, be on the call, and make an informed decision.
Regards,
Orlando