Looking for ways to evoke great style in your home without breaking the bank? (Aren't we all?) If you are, try these five tips from Apartment Therapy's Tess Wilson: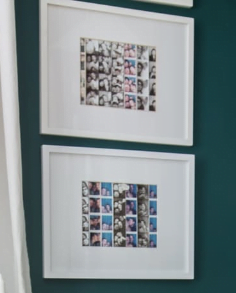 Pick a standard frame for all your art needs (and then buy it in bulk).  Reporter Tess Wilson suggests buying the affordable Ribba frame at Ikea.
Using one kind of frame creates a museum quality look to your art, allowing the focus to remain (as it should) on the images you're framing.
You don't have to spend big buck for "art" either. Think vacation postcards, smartphone photos, photo booth series shots, or even kids' art can all look high-end when matted and mounted under glass.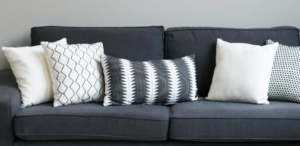 2. Pick a palette.  Find a unified palette that works for you and your style. Affordable finds from Ikea, Target, or even thrift shops look better when they work in a theme.  Wilson suggests H&M's wide range of affordable pillows to bring a look together.
3.  Focus on minimalism.  A minimalist style strips down the extraneous, to focus on fewer, high quality, simple pieces that speak to our souls. The good news is that minimalism is in, so take advantage of  the trend.
4. Bring your personality forward. If you have details around your home that share your history or have fascinating pieces that you've collected, don't stick them in a corner – display them proudly!  Whether it's a lamp from your grandpa's work desk, a vase you found while backpacking through Europe or a collection of black and white photos you took for a photography class, make your space truly YOURS.
5.  Do things intentionally. The most important design tip you can remember is to do things with intention. Whether it's grouping like items together so that they look like "a collection," or fluffing and arranging the pillows on your bed to look more inviting, make the most of what you have. Even a bunch of books look better when they're neatly stacked and arranged.